Dentures in Pacific Palisades, CA
Whether it is because of an unexpected accident, poor oral maintenance, or genetics, some people, unfortunately, experience the loss of a tooth—or several teeth. Aside from an unattractive aesthetic, missing teeth can cause trouble speaking or eating, and may contribute to a variety of other dental issues.
Dentures are a common solution for missing teeth. They are known for their ability to restore the smile and improve oral functionality.
What Are Dentures?
Dentures are removable prosthetic teeth that are used to replace missing teeth. Dentures are individually made to fit the mouth of the patient and come in two forms: full and partial. Full dentures are typically used for patients that are missing all of their teeth, whereas partial dentures are for those that are only missing a few.
Dentures are designed to be removable while also being secure enough to look natural and function properly when worn.
The crown restorations for dentures are made from porcelain or hard resin, and the gum line is made from a flesh-colored acrylic.
"...all in all a great experience in their office, both during and after any procedure."
Who Is a Good Candidate for Dentures?
A good candidate for dentures is someone who:
Has a series of missing teeth (two or more) or has chosen to remove all of their teeth
Has sufficient healthy gum tissue and jawbone
Is having trouble with normal oral functions such as chewing or speaking due to their missing teeth
What Are the Benefits of Dentures?
Dentures offer different benefits for different patients, depending on their needs. Some of the benefits of dentures include:
Restoring the smile
Increasing the ability to chew and eat
Easing speech
Preventing further damage to natural teeth
Improving confidence and self-image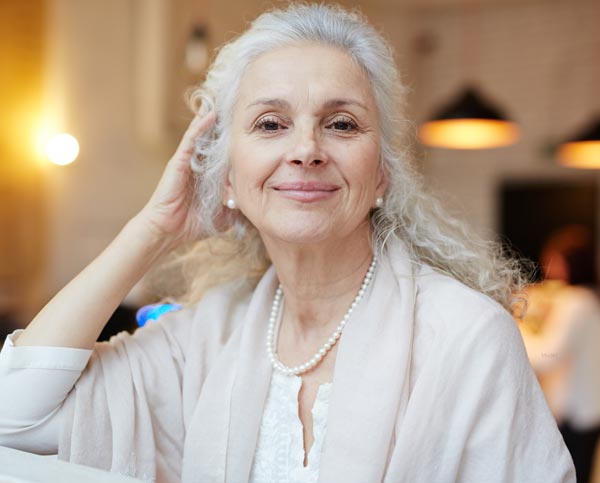 How Can I Get Dentures?
An initial dental appointment is needed to evaluate your current situation. This appointment will serve as a consultation where you can set goals and come up with a plan for treatment with your dentist. During this stage, a fitting is taken so that a mold can be made for the dentures.
Some patients may need to have extractions or other dental work completed before they can move forward. If a patient does not require any additional work done, they may not need to return to the dental office until their dentures are ready to be picked up.
When the dentures are ready to be taken home, the patient will come in and have the dentures placed in their mouth. Any last-minute adjustments or changes will be identified during this time, and if the modification is minor, it may be able to be handled within the appointment. Your dentist will give detailed instructions on how to care for your natural teeth and your dentures.
In most cases, patients will have to return to the dentist regularly to make sure that the dentures are functioning properly and do not need replacing.
Want to Learn More?
If you think you may need dentures and would like to learn more about your options, please contact the Palisades Dentists at 310-459-2303 or fill out this form to make an appointment.