Laser Dentistry
April 23, 2018 | News | The Office of The Palisades Dentists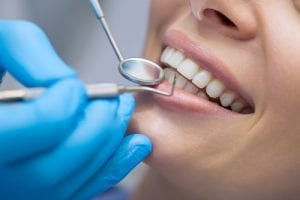 Laser therapy is a modern alternative to conventional gum surgery for the treatment of various stages of gum disease. Utilizing advanced laser technology, the PerioLase MVP-7 laser delivers concentrated light energy to the affected gum tissue to effectively reach all decayed matter without causing significant trauma to the surrounding area. The PerioLase Laser can assist with a multitude of procedures and techniques, ensuring optimal patient comfort and a shorter recovery period.
LANAP and LAR
The PerioLase can accomplish both Laser Assisted New Attachment Protocol (LANAP) and Laser Assisted Regeneration (LAR). The wavelength that The PerioLase uses reaches infected tissue without damaging the healthy tissue around it and helps with blood coagulation. Additionally, it promotes healing and stimulates regeneration of cementum, periodontal ligament, and alveolar bone.
Frenectomies
Frenectomies are necessary when a frenulum, or small fold of tissue, prevents mobility of a body part. The two types of oral frenectomies are labial and lingual, which affect the upper lip and underneath the tongue. During this procedure, the targeted tissue is cut to release it from the affected part of the body, and the PerioLase is applied to minimize bleeding. The laser also encourages bio-regeneration and produces a lower risk of infection and relapse than with traditional frenectomy techniques.
Biostimulation
The PerioLase has analgesic, anti-inflammatory, and healing properties. When delivered before and after oral surgery, the laser stabilizes the nerve membranes to neutralize pain signals. It can also reduce inflammation, including that of temporomandibular disorders (TMD), and enhance the treatment of periodontal disease by triggering bone regeneration and sterilizing the socket.
For more information about how you can benefit from laser dentistry, please call the Palisades Dentists at 310.459.2303.