Your Dental Hygiene Appointment
September 10, 2018 | Dental Hygiene | The Office of The Palisades Dentists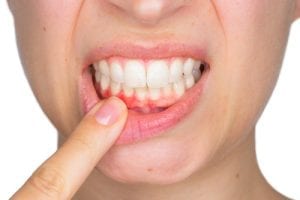 Typically, patients are advised to schedule professional dental hygiene appointments at least twice per year to have their teeth cleaned and their gums inspected for signs of disease. Some patients may have to see their dentist more often if they smoke, have diabetes, or are pregnant. The type of dental cleaning you will have depends on how healthy your teeth and gums are, which is determined during each visit. Regularly scheduling dental hygiene services can help you maintain your oral health by preventing the progression of gum disease and bone loss.
What to Expect
Preventative Care: A dental hygiene appointment usually consists of cleaning the teeth and checking the gum pockets for disease. Periodontal disease is characterized by red or bleeding gums, tooth sensitivity, chronic bad breath (halitosis), receding gums, and other symptoms. If you experience any of these symptoms, you should contact your dentist right away, even if you are several months away from your six-month checkup.
Periodontal Maintenance: Patients with periodontal disease need to go to the dentist more frequently to monitor the condition and prevent it from becoming more severe. Treating infections early on can conserve the integrity of your teeth and gums and maintain your oral health. If periodontal disease is left untreated, patients can experience irreversible consequences, such as tooth and bone loss.
Dental Hygiene Recommendations: After ensuring that your teeth are free of tartar and plaque buildup, your hygienist will review brushing techniques and other at-home oral care practices that will keep your mouth healthy between checkups. Adopting an effective oral hygiene routine will help with the long-term preservation of your teeth and gums.
What Happens Next?
If any complications or conditions are diagnosed during your dental hygiene evaluation, you may benefit from specialized treatment. Following your initial visit, your dental specialist may set up subsequent appointments for more detailed procedures, including, but not limited to:
Composite fillings
Scaling and root planing
Crowns or bridges
Full mouth rehabilitation
For more information about dental hygiene services or to schedule an appointment at The Palisades Dentists, please contact our office by calling 310.459.2303.